PADI Rescue Diver course is the most challenging, yet most rewarding course I've ever taken so far.
Why? Because you learn to prevent and manage problems in the water, and become more confident in your skills as a diver, knowing that you can help others if needed.
During the course, we learned to become a better buddy by practicing problem solving skills until we fall down because we're too tired  🙂 . You rest and then you continue… until these skills come automatically.
Plus, the course is just fun – it's serious, but still allows for lots of laughter in between the focused learning.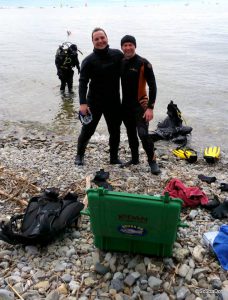 Here is me and Pepe Bucher after 4 hours of diving in Bodensee on 10degrees water temperature. The diver in the background is Thomas, who generously played the role of victim.
Thanks to Jörg Lietzmann of Scubado for this great course.

Posted in course and tagged padi, rescue diver